SIMPLIFY ALL OF YOUR KITCHEN CLEANING
ONE CLEAN Kitchen Super Cleaner is a 100% safe, eco-friendly GREEN cleaning product for restaurant kitchens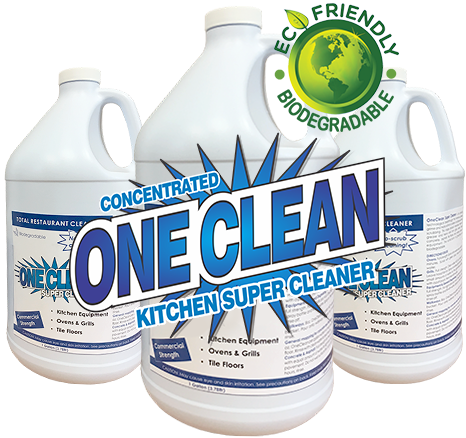 POWERFUL AND 100% SAFE
One Clean Kitchen Super Cleaner is completely safe for use around food and for use with bare hands - so no need to panic if it makes contact with skin or if accidentally ingested!
FOR NO SCRUB CLEANING
Successfully removes oil, fat and grease from a variety of kitchen surfaces WITHOUT scrubbing. Save on time, water and labor!
ONE PRODUCT, MANY USES
With ONE CLEAN you can simplify all your restaurant, home and office cleaning by using just ONE 100% green biodegradable cleaning product for all your surfaces
QUICK ACTION FORMULA
The ONE CLEAN industrial strength, concentrated formula begins to work the moment it touches a surface. Spray on and just wipe off!
* This Product meets USDA Performance Standards for (A1), (A4), (A5), and (A8) Type Products *
ENVIRONMENTALLY FRIENDLY, ULTRA SAFE GREEN CLEANER
One of the most powerful degreasers available, ONE CLEAN removes baked on oil, fat and grease without scrubbing from a variety of surfaces. Containing no butyl or toxic chemicals, this is a food safe green kitchen cleaner that wont pollute water supply!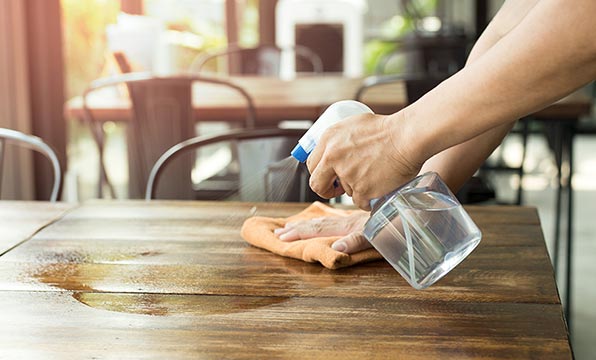 Cooking Equipment

Kitchen Equipment

Ovens, Grills and Fryers

Rotisseries and Broilers

Vent Hoods

Bathroom Cleaning

Floor and Tile Cleaning

Industrial Equipment

Outdoor and Exterior Cleaning

Garden Equipment

General Household Cleaning

Laundry Pre-Soak and Carpets