HOW TO CLEAN YOUR AUTOMOTIVE SHOP
Use the DriveUp GREEN degreaser to remove motor oil from equipment, concrete and clean anything in your automotive centre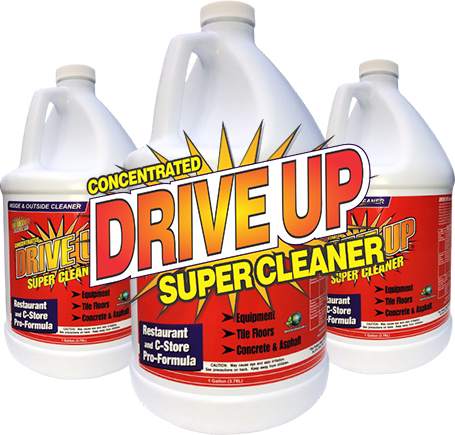 WHY USE DRIVE UP FOR
SHOP AND C-STORE CLEANING?
You've invested a lot of time and money into your business. Protect that investment and learn how to clean oil and grease from concrete, engines and equipment effortlessly and to industrial standard with Drive Up. You may be tempted to use lower-cost consumer grade cleaners - but saving a few dollars will cost you a lot more in the long run. Choose industrial strength and reduce inventory and labor costs and save storage space with Drive Up.
CONCENTRATE
Consumer grade off the shelf degreasers average on being 10x more diluted compared to Drive Up. Follow our mix ratios and you will save time and money and gain maximum performance.
SAFETY
Being 100% eco-friendly and biodegradable, Drive Up is the safest degreaser available. Don't put your business and employees at risk for an accident or injury caused by hazardous harsh chemicals.
OIL SEPARATION
Designed and tested for exact equipment specifications. No more clogging up and manually clearing your oil separation systems because your degreaser is not working.
VERSATILITY
This multi-purpose product can be used to clean anything in and around your shop, from soaking oily engine blocks, cleaning car parts or to just wipe down tools or mop shop floors