HOW TO SIMPLIFY KITCHEN CLEANING
Use OneClean Super Cleaner & Degreaser to easily clean cooking and kitchen equipment without scrubbing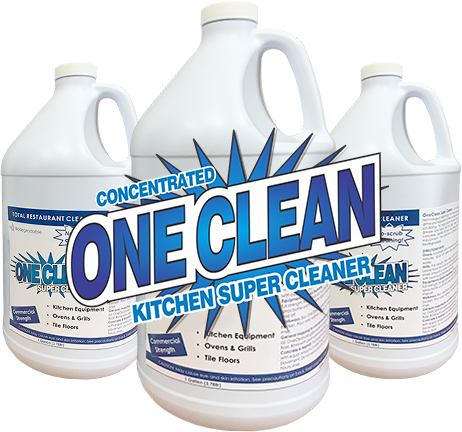 WHY USE ONECLEAN FOR
CLEANING KITCHEN EQUIPMENT?
Easily clean kitchens and restaurants with ONECLEAN super kitchen cleaner and degreaser. It is an eco-friendly, green industrial strength cleaner that will easily remove baked on oil, fat and grease without scrubbing from a variety of kitchen surfaces. It contains no butyl or toxic chemicals, making it a food safe cleaner that can be used in restaurant environments
REQUIRES NO SCRUBBING
Will effortlessly remove oil, grease and fat from almost any kitchen surface without the need for scrubbing. You can save on time, water and labor!
HAND AND FOOD SAFE
This 100% GREEN formula contains no butyl or harsh toxic chemicals, making this product completely safe for use around food and with bare hands
FAST ACTING FORMULA
The unique formula of this kitchen super cleaner will begin acting the moment it touches a surface, saving you valuable time and labor costs.
SINGLE SOLUTION
With just this ONE multi-purpose and multi-surface product, you can simplify all of your restaurant cleaning product requirements to just one.